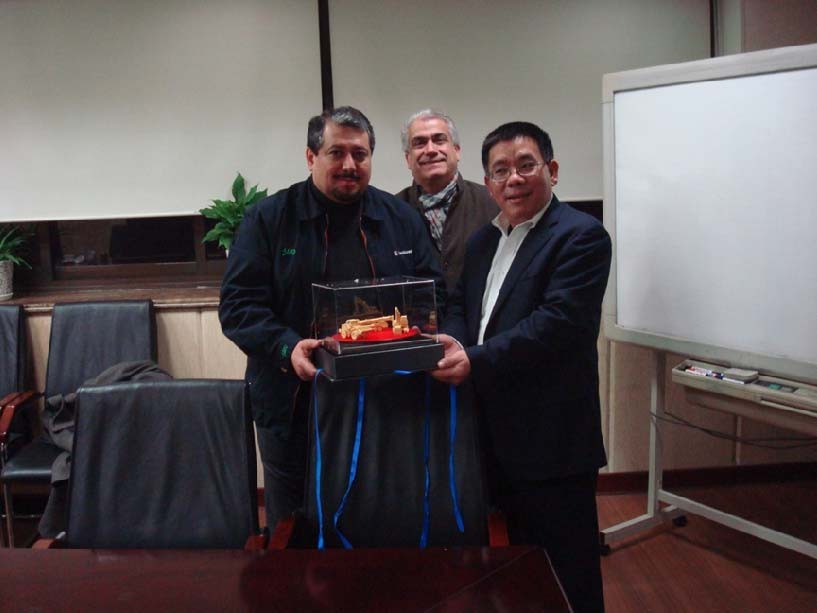 President Zeng presents his gift to Sheikh Tariq (left) and Mr. Hasan Saleh (middle)


On January 29th, the first working day after Chinese New Year holiday, His Excellency Sheikh Tariq Abdel Hadi A. Al Qahtani, Chairman of Abdel Hadi Abdullah Al-Qahtani & Sons Co. (AHQ), visited Dongfeng's Liuzhou headquarters, accompanied by Mr. Khaled El Shatoury, Manager Director of AHQ Vehicle and Machinery Branch, and Mr. Hasan Saleh, Manager Director of AHQ Bahrain Branch.

AHQ, located in Dammam, the major city in Eastern Province of Saudi Arabia, was established in the 1940's. After nearly 70 years of development, it has became one of the largest and most reputable privately owned companies, with good relationships in both governmental and commercial sectors. It is also the biggest petroleum pipeline supplier in the region.

AHQ has been cooperating with Dongfeng for over 6 years. Because of its hard work in the area, Dongfeng has successfully been registered into the purchase list of many top companies and contractors in the area, such as ARAMCO, Saudi Bin Ladin Group and Al Rashid Trading & Contracting. Last year, AHQ Vehicle and Machinery Branch totally upgraded their facilities to satisfy and upgrade customers' experience. In 2011, AHQ has been awarded "Outstanding Regional Dealer" in Middle East area.

During the three days visit, His Excellency Sheikh Tariq had a friendly bilateral meeting with President Zeng, discussing the future market plan of Dongfeng in Saudi Arabia. As a strategic partner, AHQ promised they would focus on Dongfeng's business and invest more money in infrastructure construction, expanding their outlet network going forward. Mr. Zeng discussed Dongfeng's progress and development strategy in the coming years. He also guaranteed Dongfeng would offer strong support to AHQ's future development.