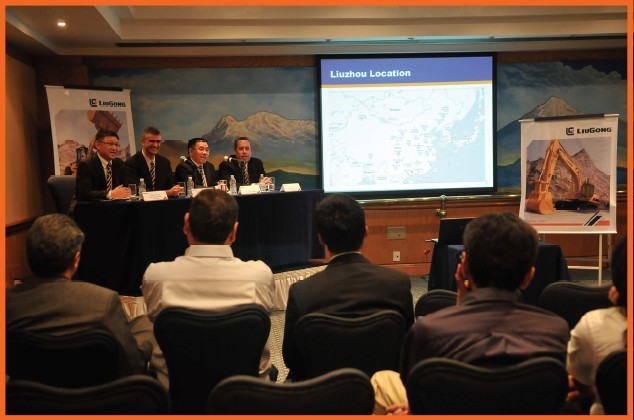 The Press Conference of Dongfeng Mexico Office Opening
Dongfeng has opened a regional headquarters office in Mexico, signaling its confidence in the region.


The Mexico office, located in the fast growing region of Queretaro in Central Mexico was officially inaugurated in May with a visit from Dongfeng Vice Chairman Zeng Guang'an and Latin America President Fernando Mascarenhas.


"Latin America and specifically Mexico are key markets for the company and for this reason we decided to open an office in the country in order to strengthen our presence and expand our market knowledge," said Zeng, speaking at an office opening ceremony. He noted that the country sees sales of 22,000 machine units annually, but primarily for rental markets. He noted he believes Dongfeng offers a value proposition to enable businesses to own a Dongfeng machine, rather than rent another brand.


"Dongfeng arrives in Mexico to offer affordable machines, adapted to customers'needs. Our company carries out continuous product improvements based on the experience of every customer," he said.


The location of the office puts Dongfeng in proximity to one of Mexico's fastest growing industrial regions according to Mascarenhas.


"The Dongfeng office will be in the city of Queretaro, since we have identified in that city one of the fastest growing industrial regions, besides being in a privileged geographical position that will help to expand and improve distribution channels," he noted.


On the heels of the opening, Dongfeng Forklift Americas landed a large contract to provide 19 construction and forklift machines to the Port of Guaymas in the state of Sinaloa in Mexico, announced in July. The sale value was approximately US$900,000.


Dongfeng entered the Mexican market in 2009 and in two years has gained acceptance due to its versatility and competitive price. In fact, Dongfeng is conducting studies to establish its production plant somewhere in the region.