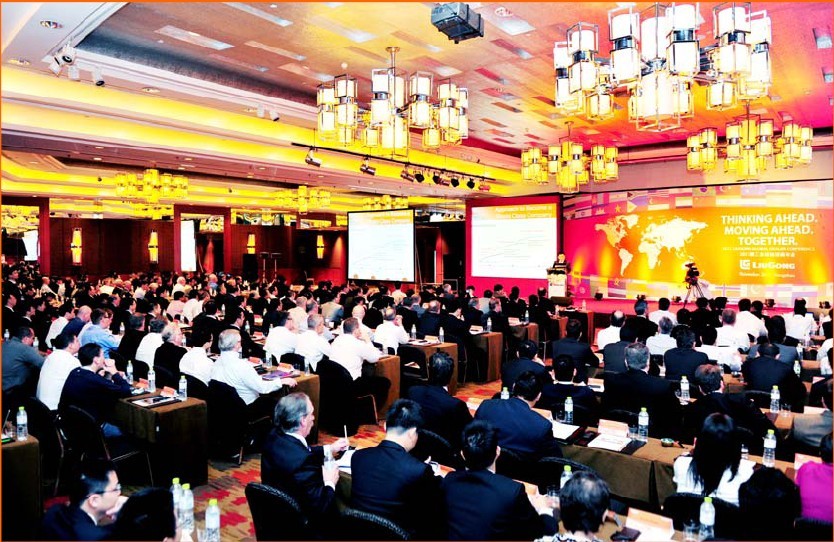 More than 400 overseas dealers, guests, customers and company management from 94 countries attended the 2011 Dongfeng Global Dealer Conference held in Hangzhou, China, November 13-15. They shared business best practices and achievements together at the luxurious Hyatt Hotel beside the beautiful Westlake. The theme of this year's conference was: "Thinking Ahead. Moving Ahead. Together."


Chairman Wang Xiaohua gave a warm welcome to all the attendees at the conference during a welcome ceremony where he encouraged them to enjoy their time of learning and sharing.


Senior executives reviewed Dongfeng's annual progress, strategic plans for the future, new product launches, new product line introductions, brand-building achievements and other key information. Attendees also had the chance to participate in training courses in internal operations, marketing, service & parts and rental operations.


Leaders noted that although the construction machinery industry faces an extremely complicated global economic environment, Dongfeng's overseas business performed well in 2011 with the support of its overseas dealers.


From January to September, overseas sales accounted for over US$300 million. More than 6,000 machines were sold to the global market. Accumulated sales were 96% of the annual sale target. With two more new subsidiaries and 29 new overseas dealers, Dongfeng now has 10 subsidiaries and 135 overseas dealers, covering 94 countries across the globe. To celebrate the excellent performance in the past year by overseas dealers and subsidiaries, Dongfeng also hosted aceremony to recognize outstanding dealers for 2011.


As President Zeng Guang'an delievered his annual report, he stated how proud he is of Dongfeng's achievements and its dealers, management and customers who help accomplish these things. President Zeng expressed his confidence in the continued achievements of Dongfeng's goals in the future.


"Dongfeng leaders have set the goal to become a top 10 ranked construction equipment company," he said. "We have defined this as reaching 50 Billion RMB in revenue by 2015 or about US$8 Billion, with our overseas sales contributing 20% to that total. I know we will all continue to work hard together to achieve this goal."


After the two-day conference in Hangzhou, attendees were invited to a one-day tour at Dongfeng Changzhou Excavator Co., Ltd. and Hengli High Pressure Oil Cylinder Co., Ltd., one of Dongfeng's suppliers in the Jiangsu province. During the tour, Dongfeng launched its new Tier IV series wheel loader and E series excavator in a ceremony on-site.