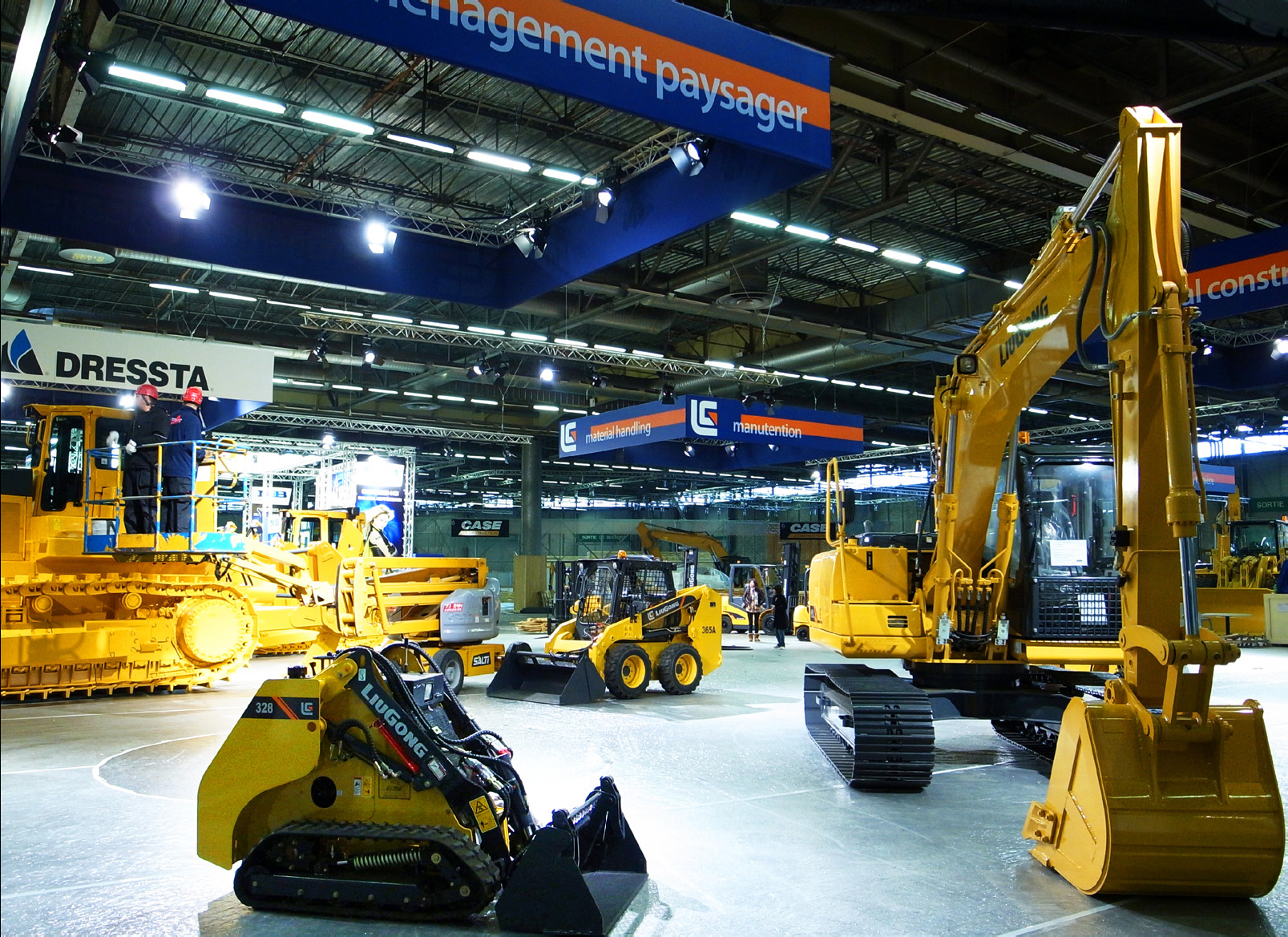 Dongfeng doubled its booth presence at the show to more than 2,000 m² and displaying 23 machines, it's the largest overseas exhibition to date.
Located inside hall 6, the Dongfeng booth was located next to other top market leaders such as Hitachi, Volvo and Komatsu. "We chose this location for many reasons," Shirley Liang, Dongfeng Overseas Tradeshow Specialist said, "Not only does it have sufficient space for us to show our full line products but one other important aspect of the location is that it shows that Dongfeng is also one of the world's top brands and our shows our determination to take our rightful place among other world class manufacturers."
David Beatenbough, Dongfeng Vice President of Research & Development, officially announced the new E-Series Excavator to world markets through a press conference in the booth held the opening day of INTERMAT, attracting almost 100 trade and business journalist such as KHL, World Highways and CMTM.
"The E-Series competes well with the world's top brands, and we are announcing major new gains in productivity, quality, efficiency and serviceability as we showcase our 22-ton model, the 922EIII," said Beatenbough, adding that the model can be purchased with a European Stage 3B engine.
In addition to the new excavator, Dongfeng also showed four wheel loaders with bucket sizes ranging from 1.9m³ to 4.5m³, including one European Stage 3B model; five excavators ranging from 6 to 36 tons; four rollers; a motor grader; two skid steers; four forklifts, both diesel and electric and three Dressta brand bulldozers. This was the first time Dressta attended a world level tradeshow as a part of Dongfeng.
"The top global tradeshows continue to be incredibly important to us," said David Beatenbough. "INTERMAT is the perfect showcase for us with our new line of next generation excavators and as a platform to discuss all of our European growth. Customers can see a complete transformation of our show presence."
Beatenbough said Dongfeng continues to be very active in the European market outpacing other Chinese companies in global growth and success.
Dongfeng's success in Europe is growing. The company saw European sales increase 181% in 2011 over the year previous. Dongfeng sold more than 1,200 machines within Europe in 2011, with especially strong performance in Eastern Europe and Russia.